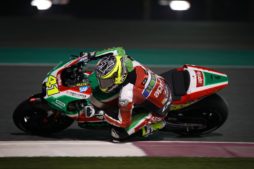 Mecoil Diagnosi Meccaniche has a long story as a sponsor in the minor leagues, and as a consultant on wear and lube analysis for some of the largest motorcycle and automotive company,
without neglecting the small fans and prestigious journalistic collaborations.
When there is an opportunity to participate on the track trying to raise awareness of the feasibility of oil analysis "in the field" using portable instruments (Viscometer, Fluidscan, Fuel Dilution Meter, Ferrocheck) and laboratory instruments (Spectroil Q100) with the help of our practical method for sampling: UCVD (Ultra Clean Vacuum Device).
Oil analysis have now effective implications in predictive terms on the engines' wear (in this particular context fueled with gasoline) which are distinguished by high powers, and inevitable fuel dilution problems. Oil analysis garantee saving components of high value and also, avoiding unpleasant breaks, to get to the end grand prize season. It also can tell us the weak signals of wear that came from the race engines.
Today you can track the oil state before, during, and after the race weekend (Free Practice, Qualifying, Gare).
With our instrumentation is it possible to verify, for comparison, the condition of the lubricant before being used and the correspondence with manufacturer's specifications.
It's worth remembering that oil analysis can provide good results if it is done with passion and a structured method.
The construction of a coherent database, witch allows to characterize an engine (for example in testing performance / winter time), and trend analysis can lead to identify the behavior under stress on the field conditions (punctual analysis).
With our experience, gained in over 25 years, we are able to guarantee a full service in engineering consulting which starts from the racing department (analysis and contextualization of oil-engine results), passing from the tests during the year, up to the hectic pace of a race weekend.
Eng.Desideri