Noria, Lubrication-Enabled Reliability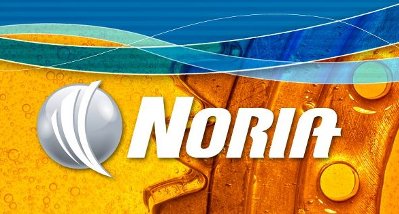 Noria Corporation was founded in 1997 with the single focus of helping to improve machine reliability through best-practice industrial lubrication and oil analysis. Over the past 15 years, our approach has changed how organizations manage and monitor lubricants for optimum reliability and safety. The Noria team of reliability experts incorporates a vendor-neutral and unbiased approach among its global customer base.
As the world's leading training and consulting organization in the machinery lubrication and oil analysis industry, Noria's wide range of practices are disseminated through public, private, and online training courses, consulting services, websites, e-newsletters, videos, books, and magazines. As publisher of Machinery Lubrication magazine and Lube-Tips and Reliable Plant Mail e-newsletters, Noria impacts the way people think about advanced machine reliability and maintenance technologies. The depth and quality of services allow Noria to establish long-term business relationships with end-users, enabling exhibitors to reach a highly targeted audience qualified to buy their goods and services. Noria's targeted audience members are maintenance and engineering decision-makers responsible for improving the productivity, performance, and reliability of plant mission-critical mechanical assets – managers, technicians, engineers, planners, and specialists whose daily responsibilities include equipment reliability and process management – in a variety of environments.
Each year, Noria hosts the RELIABLE PLANT conference and exhibition, providing the tactical and strategic insights necessary to keep plant equipment running at peak performance. Noria is considered the leading authority for machinery lubrication and oil analysis and is a trusted advisor to the world's leading organizations and Fortune 500 companies.
Machinery Lubrication
Machinery Lubrication magazine provides strategic and tactical insights that help preserve and maintain facility operations at peak performance. Every 2 months, more than 35,000 technicians worldwide receive a free electronic copy of the magazine. Subscribe to the magazine for free at this link.
The magazine is also available on its website (www.machinerylubrication.com) with an archive of all published articles, videos, and newsletter issues.
The most interesting articles are translated into Italian and published on this page.
Conference
Noria and Mecoil have collaborated to spread the culture of lubrication and predictive maintenance in the industrial world for many years. In Italy and the world, events are organized to bring together experts and professionals in the industry, presenting the latest technological innovations in the field of lubrication. Each year, Noria organizes the Reliable Plant Conference in the United States, where Mecoil participates with significant involvement.
Link http://conference.reliableplant.com/
Discover Noria's Online Training Videos
The use of technology in knowledge sharing through web-based videos is one of the best formats for Noria to increase the competencies and skills of technicians in the lubrication field. Online training (currently in English) allows any technician to build a fast track toward best practices and procedures in managing lubricants through lessons tailored to your needs.
See the Noria videos on YouTube.