New frontiers in Remote Diagnostics
Monitoil real-time surveils your machines' condition
Mecoil Diagnosi Meccaniche s.r.l., with the partnership of several corporations, University of Florence, and under the sponsorhip of Regione Toscana has developed a prototype of remotely monitored machine, to be constantly "tutored" via numerous sensors or an on-line data collection system.
Data are transferred to a web platform, where decisions are automatically made on how and when is needed a corrective intervention either by human personnel or trough remotely assisted devices.
The O.M.T. (Online Machine Tutor) has been created as a response to increasing demand of assistance and corrective maintenance (only when necessary, on conditions' based situation) in environments where these actions are difficult/expensive.
The outputs from the compressor (a small size unit, custom developed to be easily carried for demo purposes) are captured by several sensors (i.e. pressures, T°C, Vibrations…) and analyzed trough an expert system, that is capable to "remember" other failures and taking actions in order to correct them.
What is Monitoil
Follow the italian interview of Dr. Adriani (CEO Mecoil) on innovation and the possible application of Monitoil
Data Sheet
Power Requirements
Power consumption: 12 Watt
System I / O
8 connectors 9-pin version: input support protocol CanBus, ModBus, RS485, RS232, analogic or output
1 connector 5-pin version: to extend
Communication ports
1 USB port
1 Ethernet port
Miscellaneous
Power: ARM11 @ 800Mhz
Memory 8 GB SD
Integrated real-time clock with battery backup
5 LED
Firmware and software upgradeable via internet or via a browser on the local network
Set-up via web page
Case Pelican 1150
Protection Grade: IP67 (dowload certificate)
Weight: 1620 g
Dimensions: 232 x 192 x 111 mm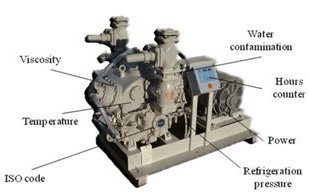 Sensors
Several sensors are already set for Monitoil, some examples:
Pressure
Opical particle counter
Moisture
Vibration
Air temperature
Flow
Dielettric
Density
Viscosity
Oil Temperature
Power consumption
Specola

Specola is a integrated sensor suite for the determination of the physical chemical characteristics (viscosity, density, oil degradation%) and contamination (water and particulate) of running oil. Thanks to his compact size can be easily placed next to the machine, and the Mini-mess connectors allow a easy and quick installation. A bypass circuit can be use, not interfering with the normal asset operation at all. The equipped sampling point allows to sample the running oil in under controlled conditions. Connected to Monitoil, Specola allows an immediate on-line monitoring of your strategic asset.
Publications