FluidScan Series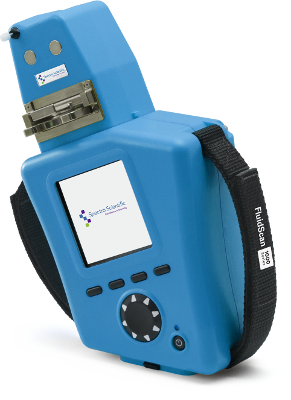 Description
The FluidScan® 1100 provides direct quantitative measurement of a lubricant's condition and plays an important role in Machine Condition Monitoring (MCM) for proactive and predictive maintenance in Reliability Management programs.
Applications include mineral and synthetic oils used in machinery components
Gear boxes
Compressors
Hydraulic systems
Turbines
Transmissions
Diesel engines
Highlights
ASTM Compliance
ASTM D7889 Compliant- "Standard Test Method for Field Determination of In-service Fluid Properties Using IR Spectroscopy"
High correlation to KF water, TAN and TBN laboratory tests
Reproducibility and repeatability comparable to benchtop FTIR method ASTM E2412
Data analysis compliant to ASTM E1655
Easy to use
Needs just one drop of oil and one minute to test
No solvents required to clean
Color coded alarm levels
Comprehensive Fluid Library
The 1100 is available with over 500 fluids in the on-board Oil Library for immediate, out-of the-box operation, and additional oils can be added to the oil library by the end-user
Results for critical properties such as TAN, Oxidation and water contamination for industrial lubricants and TBN, water, oxidation, nitration, sulfation, glycol and soot for engine oils.
The FluidScan® 1100 can also be ordered in a combination kits (Minilab53) with the MiniVisc 3000 portable kinematic viscometer.
More information: http://www.spectrosci.com/products/fluidscan-series/