FieldLab 58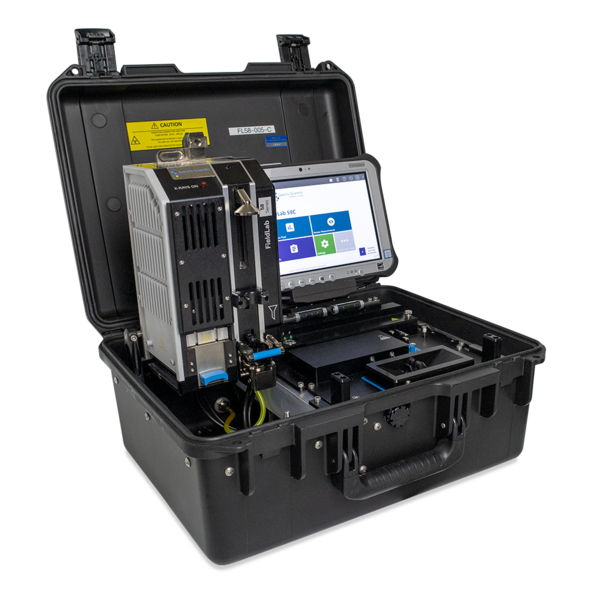 Description
FieldLab58C is the new portable, lightweight device providing rapid onsite oil analysis results with quality similar to oil analysis labs. Funded by the United States Department of Defense (DoD), then developed and commercialized by Spectro Scientific, the FieldLab C Series is the state of the art of military technology now available for commercial use. The FieldLab C Series integrated system requires only 12 milliliters of oil to complete four comprehensive tests to help maintain readiness of critical assets while economically managing maintenance costs.
Key Features
No solvents or reagents and small sample volumes required

Intuitive Interface and simple workflow minimizing human error

Built-In Video Instruction for inexperienced users

Rugged design with battery power for on-site field use

Complete oil analysis lab with 4 technologies integrated into a small case:
– X-Ray Fluorescence (XRF) spectrometer for elemental analysis
– Filter Particle Quantifier (FPQ) pore blockage particle counter
– Infrared (IR) spectrometer
– Kinematic viscometer (40°C)

4 tests generate more than 20 oil analysis parameters in less than 10 minutes

Built-in controller for measurement, data, and asset with touch screen interface

ASTM compliant
Easy to read oil analysis report with clear Observations, Diagnostics, and Recommended Actions.

Factory alarm limit tables for common components

User-customizable alarm limits and diagnostic sets for continuous improvement over time
The FieldLab 58 includes three major components
Particle Count and Elemental Analysis (ASTM D812), through Spectro Scientific patented FPQ pore blockage particle counter that captures the particles of interest for severe wear detection onto a unique filtergram. The debris is then measured on the companion XRF spectrometer for immediate results in ppm for up to 16 elements. 

Fluid Chemistry and Contamination (ASTM D7889), through IR spectrometer measuring the chemistry of the lubricant and contamination (oxidation, nitration, sulfation, anti-wear additive, Total Base Number (TBN), glycol, soot, and water for engine oil; and oxidation, Total Acid Number (TAN), and water).

Viscosity (ASTM D8092), measured using a temperature-controlled kinematic viscometer with a patented split-cell design. 
More information: http://www.spectrosci.com/product/q5800/