Spectro FDM Q6000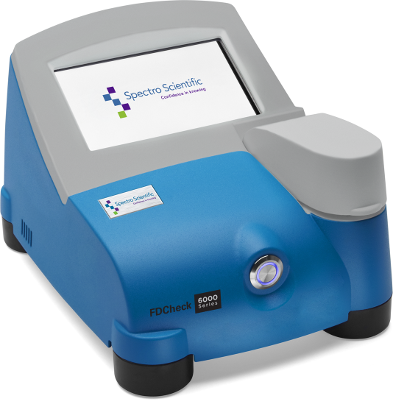 Description
The Q6000 Fuel Dilution Meter (FDM) is a portable fuel dilution meter that can be used in the laboratory or in the field to provide rapid and accurate measurements of fuel contamination in engine oil.
The headspace vapor sampling approach also eliminates the need to heat fuel-laden samples and does not require the use of solvents. Developed in collaboration with the U.S. Navy, the Q6000 detects contamination in less than two minutes, allowing operators to make immediate decisions. The device requires just a small sample size in a disposable vial. The analysis results are displayed in percent fuel so operators can make rapid decisions about maintenance actions.
In addition, the intuitive touchscreen and audio prompts guide the operator through the testing process.
Features & Benefits
Conforms to ASTM D8004 – "Standard Test Method for Fuel Dilution of In-Service Lubricants Using Surface Acoustic Wave Sensing"
Innovative headspace sampling fang design ensures excellent repeatability (<= 5% RSD)
0.2 to 15% fuel dilution measurement range
Disposable FDM vials eliminate carryover contamination
Onboard memory allows use of up to three stored calibration profiles
Sample ID entry and data file export via USB cable
Battery powered, lightweight, optional hard case for transit
More information: http://www.spectrosci.com/product/q6000/